Before we get started, I am going to be honest with all of my loyal readers.  This was not a fun Sunday for me.  Not only did the Vikings lose a big divisional game at home, they lost Dalvin Cook for the rest of the year.
Listen, every team deals with injuries and nobody feels bad for other teams.  I know that.  But this is getting ridiculous.  Dalvin joins Sammy B and Teddy Two Gloves on the list of Vikings to go down with non contact knee injuries.
Football just continuously breaks hearts, but electric slates like today will always bring us back to our couches every Sunday, no matter how much it hurts.
Lets. Get. Into. It. 
The Early Slate – From Across the Pond
New Orleans 20 – Miami 0
I said it last week and I'll say it again: there is nothing like waking up to instant football on a Sunday morning.  This one was sloppy as fuck, and the Dolphins have serious cause for concern.  Not being able to move the ball against this Saints Defense is clearly a horrible sign.  Ajayi couldn't get going and Smoking Jay Cutler looked like he accidentally smoked something silly instead of his usual dose of an entire pack of Marlboro Reds.  As for the Saints, they sneaky sit at 2-2 after big performances from Michael Thomas and Alvin Kamara.
The 1:00 Slate
Cincinnati 31 – Cleveland 7
Bengals finally able to put one in the Win column with a pretty solid performance.  Obviously taken with a grain of salt since it was vs the Browns, but Dalton looked good throwing for 4 TDs.  Kizer, on the other hand, looked horrible, only completing 16 of 34.  Browns have to start wondering if Kizer is the guy for the future, as they are making a strong case for that number 1 pick (again).
Los Angeles 35 – Dallas 30: The GSJ Game of the Week
Did Jared Goff just walk into Jerry World and walk out with a win? The only thing bigger than that ridiculous scoreboard today was Sean McVay's balls.  Gutsy win for the Rams, as they prove they are a legit contender in the NFC West.  Gurley and Goff both looked great and the Cowboys simply seemed deflated in the second half.  Live look at Wade Phillips: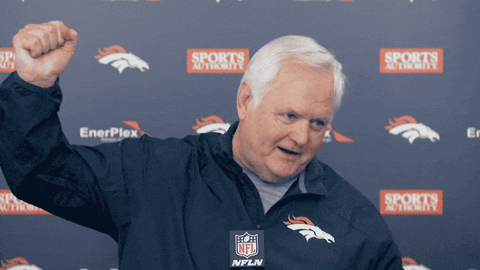 Houston 57 – Tennessee 14
An offensive explosion for the Texans.  What the fuck?!  Never thought I would say that, but Deshaun Watson looked like a seasoned veteran throwing 4 TD's, including 2 to Will Fuller.  Good to see him back and healthy.  Really a wild game.  Every time I turned my head, it seemed like the Texans were scoring again.  Sadly, the Titans bad day got worse when they lost Marcus Mariota to a hamstring injury.  Hope he is alright and I really hope the Titans D can figure it out, because this was flat out embarrassing.
New York 23 – Jacksonville 20
Jets. Jaguars.  Grit. Grit. Grit.  Really thought this was going to end in a tie, which would have been the most classic Jets/Jags thing ever, but a 41 yard FG at the end of overtime gives the Jets the win.  Don't look now, but Josh McCown is currently 2-0 in his last 2 starts.  Very scary.  As for the Jags, very tough look after that great game last week in London.  Seems like they are still a year away from putting it all together.
Detroit 14 – Minnesota 7
A classic NFC North showdown.  Sadly, the defensive battle does not go the Vikings way.  Just too many missed opportunities.  4 dropped INTs and 2 fumbles sadly won't cut it in a divisional game.  Lions D continues to impress, as they look like a real NFC North contender.  The Dalvin Cook injury is very very costly for the Vikings, as a lot of their offense was possible because of him, but next man up.  We are on to Chicago.
Carolina 33 – New England 30
Nobody should be surprised about this.  Nobody.  If you are, then this must be the first time you have read my blog.  Sad!  The Patriots' defense simply is not good.  No "if's" "and's" or "but's", they are not good.  This is the second week in a row they have let up 33 points at home, and no matter how good Tom Brady is, he cannot put together miraculous comebacks every week.  Newton silents the critics with a great game, and the Panthers leave Gillette at 3-1 after the buzzer beating thriller.
Buffalo 23 – Atlanta 17
Probably the biggest surprise of the weekend.  TyGod Taylor walks into Atlanta and comes a way with a win.  Taylor took care of the ball and got lots of help from his defense, who intercepted Ryan 2 times and brought this fumble back to the house.
Really nice road win for the Bills, who look well coached and disciplined for the first time in a while.  Are the Bills the best team in the AFC East? Hmmmmm.
Pittsburgh 26 – Baltimore 9
After getting dismantled by the Jaguars in the Queen's Land last week, the Ravens look horrible again as Pittsburgh finally puts together a nice game on the road.  Flacco looks lost, once again, as he threw 2 INTs and the Ravens put up a whopping 9 points.  Happy the Steelers finally looked good on the road, led by Lev Bell's 144 yards and 2 TDs, and this classic Dragon Ball Z celebration by JuJu Smith.
The 4:00 Slate
Philadelphia 26 – Los Angeles 24
Although this game was in LA, it was really a home game for the Eagles.  All I can say is that I feel bad for the Chargers players, who will play 16 road games this year.  I mean, what did they expect after they moved a team to a city that clearly did not want them.  Nevertheless, great game in West Philly, as the Eagles squeeze one out vs the now 0-4 Chargers.  Eagles looked impressive, once again, and continue their campaign for the NFC East title.  At least we finally got a classic Phil Rivers meltdown, because is it really a slate without one?
Tampa Bay 25 – New York 23
Potentially the game of the week.  Tampa Bay was able to hold off the Giants who were desperate for a win.  Ben McAdoo should be left in Tampa Bay, as there is no reason why this team should be 0-4.  Yes the OL sucks, but their D is great and they have enough weapons to win games.  It is embarrassing.  Great game, though, as the Bucs win on a last second field goal.  Balanced offense all around for Jameis and the boys, as this one basically came down to who had the ball last.
Arizona 18 – San Francisco 15
An absolutely disgusting game.  Nobody could get into the endzone and this one was just brutal to watch.  Then, Larry FitzGOATald took over in overtime.  It really is amazing that Fitzgerald is still playing at such a high level.  The auto Hall of Famer did this in overtime on Sunday.
Denver 16 – Oakland 10
The Broncos remain unbeatable at home.  After shutting down Zeke in Mile High, they do the same to Lynch and the high powered Raiders offense.  This defense in Denver is really fun to watch.  They fly to the ball, they stop the run, and they dominate from start to finish.  Marshawn Lynch finished with 9 rushes for 12 yards.  Not much the Raiders can do here, as everybody hopes Derrick Carr isn't seriously injured.
The Night Slate
Seattle 46 – Indianapolis 18
Despite Jacoby Brissett looking great last night, Seattle and the 12s were simply too much.  Finally the Seahawks are able to put a full game together, although it was vs. the Colts.  Not much of a surprise here.  The Seahawks should dominate the Colts at home.  Really love what I saw from Brissett last night, he clearly just is not ready for that large of a stage, especially with that horrible roster.